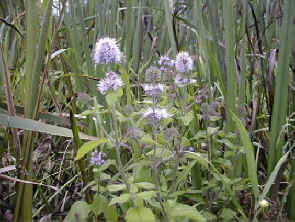 On the southern edge of the wetland where the water depth is 1-10 cm deep, plants such as Water Mint (at left), Yellow Iris, Greater Reedmace, Branched Bur-reed, Willow and Common Duckweed are found in abundance. As water depth increases, the emergent vegetation develops into pure stands of Branched Bur-reed, with Canadian Pondweed and Various-Leaved Water-Starwort submerged beneath the water surface and Duckweed floating on the top. Branched Bur-reed dies out where the water depth exceeds 50 cm.
In the western swamp region of the wetland the composition of the vegetation is somewhat different. In the shallower regions, Water Mint, Yellow Iris, Greater Reedmace, Branched Bur-reed and Willow are found as in the southern swamp area, although here with the addition of Water-plantain, Greater Spearwort and Bogbean. The deeper water areas here consist of pure stands of Bogbean.
In both regions, the substrate is composed of a deep fibrous tangled mass of rhizomes, roots and old leaf bases. The underlying sediment is black and anaeorobic.