Birds seen at The Woodland Education Centre
October 2009
Records courtesy of Rosemary Tilbury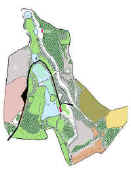 (Click on the map to go to an interactive map of the Centre.)
| | |
| --- | --- |
| Long-tailed tit | Wetlands near bird-hide area. Also in mixed flock of tits flying around woodland |
| Great tit | Wetlands near hide. Around island. Also in mixed flock of tits flying around woodland |
| Blue tit | On fir trees near log cabin. Also in mixed flock of tits flying around woodland |
| Coal tit | On fir trees near log cabin. Also in mixed flock of tits flying around woodland |
| Marsh tit | (8th Oct.) Near bird hide by wetlands. Near lake classroom. |
| Goldcrest | On fir trees near log cabin. On ivy clad trees near lake. (19th Oct.) |
| Blackbird | Maple walk. Beech walk area. Dragonfly pond area. |
| Nuthatch | Beech walk (9th Oct.) |
| Bullfinch | Small flocks on heathlands |
| Treecreeper | Kingfisher pond area. (8th Oct.) |
| Chaffinch | Most areas of woodland. |
| Blackcap | Near cabin rise. (8th Oct.) |
| Woodpigeon | Monument pond. Glow-worm rise area. |
| Magpie | Monument pond. Glow-worm rise area. (8th Oct.) |
| Jay | On heathlands. Seen and heard any area near oak trees, looking for acorns. |
| Wren | Lake area. |
| Robin | Most areas of woodland. |
| Dunnock | Near lake classroom. |
| Moorhen | Two seen on kingfisher pond, three on dragonfly pond. |
| Mallard | Male and female on lake.(26th Oct.) |
| Buzzard | Soaring over log cabin.(8th Oct.) |
| Raven | Flying over heathlands and lake. (8th Oct.) |
| Rook | Small flocks flying over heathlands and high over lake. (8th Oct.) |
| Great spotted woodpecker | Near log cabin. |
| Grey wagtail | On log cabin roof catching insects. (21st Oct.) |
| Kingfisher | Flying across lake 13thOct. (seen by Dougal) |
| Pheasant | Near main entrance (8th Oct.). Monument pond, 5 cock pheasants (21st Oct.) |
Total
26 Different species
Butterflies:
Brimstone, Large White, Small White, Green-veined White, Gatekeeper,
Silver-washed Fritillary, Speckled wood, Peacock, Painted Lady,
Total: 27 species seen
Dragonfly:
Keeled Skimmer. Over mature female seen on stones by path to cabin rise.
Ruddy Darter (male) on fencing by lake (8th Oct.).
Common Darter (male and female) and Southern Hawker (male) 8th, 19th and 28th October.
Butterflies:
Comma, Red Admiral, Peacock (8th Oct.), Speckled wood,
Brimstone (male) (28th Oct.)
Related Links