Birds seen at The Woodland Education Centre
November 2009
Records courtesy of Rosemary Tilbury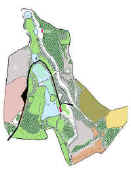 (Click on the map to go to an interactive map of the Centre.)
| | |
| --- | --- |
| Long-tailed tit | Beech walk area. |
| Great tit | Beech walk area. |
| Blue tit | Beech walk area. Log cabin. Dormice area. |
| Coal tit | On fir Trees. Kingfisher pond area. |
| Marsh tit | Near Lake. Log cabin area. Glow-worm rise. |
| Goldcrest | In fir trees, log cabin area. On ivy near lake. Beech walk. |
| Blackbird | Most areas of woodland, eating holly berries. |
| Nuthatch | Trees on top path leading to lake classroom. |
| Bullfinch | Heath-lands, green cabin area. |
| Chaffinch | Feeding on beach mast, Beech walk. (17th Nov) |
| Lesser Redpoll | Small flock on beech tree (24th Nov) |
| Redwings | Flocks eating holly berries. (24th Nov). Near green cabin (26th Nov) |
| Woodpigeon | Beech walk. Lake area. Monument pond. |
| Wren | Most areas of woodland. |
| Robin | Most areas of woodland. |
| Dunnock | Near lake. |
| Moorhen | Three on dragonfly pond. |
| Mallard | Two male, two female on lake (16th Nov) |
| Buzzard | Flying around heath-lands. |
| Magpie | Maple walk area. |
| Jay | Monument pond area. Near toilets on trees near leat. |
| Raven | Beech walk area. (1st Nov.) Flying high over dragonfly pond. |
| Rook | Flying over heath-lands |
| Crow | Lake area. |
| Great spotted woodpecker | Behind log cabin.(Male)(10th Nov) |
| Pheasant | Log cabin area. (17th Nov) |
| Woodcock | Seen near heath-land by Mike Manvil (18th Nov). Heath-land area, early evening (24th Nov) |
| Sparrowhawk | Flying high over lake (possibly male).(10th Nov) |
Total
26 Different species
Butterflies:
Brimstone, Large White, Small White, Green-veined White, Gatekeeper,
Silver-washed Fritillary, Speckled wood, Peacock, Painted Lady,
Total: 28 species seen
Moths
Humming Bird hawkmoth seen by Dougal (3rd Nov) on bank near new extension to the log cabin.
Dragonfly:
Southern Hawker (male) (3rd Nov).
Common Darter (male) (5th Nov) by lake.
Butterflies:
Red Admiral, two seen near Lake (2nd Nov). One near lake(10th Nov) On dragonfly pond (17th and 20th Nov).
Related Links