The Countryside Awareness Action Plan
"Discover the Countryside"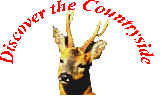 Wednesday 16th February 2000
Heritage Lottery Fund Announces grant for the Offwell Woodland & Wildlife Trust
HLF Press Release:-
"The Woodland Education Centre at Honiton will become the base from which the Countryside Awareness Action Plan will be implemented thanks to a Heritage Lottery Grant of £79,300. The project aims to encourage local people to investigate and explore their local landscape and to restore some of the skills that have been lost in interpreting our surroundings. New activities for teenage groups will emphasise the importance of conserving our local environment.
The Woodland Education Centre is set in East Devon Area of Outstanding Natural Beauty (AONB) and is a designated County Wildlife site. The Project will operate from the Centre and activities will also be taken into the community in woods and heathlands. Two new posts will be fu
nded by the grant to carry out the programme." Link to HLF.
New and exciting activities and resources will be provided over the course of this project. Educational material on Woodlands, Heathlands and Freshwater habitats together with The Forest Cycle will be available in the first year of the project. As will the comprehensive details of a Wetland Restoration Project. The details of all the available information will be posted on this website.