Gittisham Common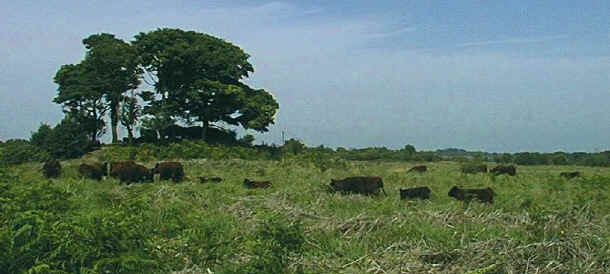 Bronze Age Tumulus on Gittisham Common
Gittisham Common consists of approximately 300 acres of private land belonging to Combe Estate of Gittisham which is near Honiton in East Devon. The Common was fenced in during 1998 for the enclosure of cattle. This was part of the management plan to improve the heathland through grazing. About 40 cattle graze from late spring to early autumn. Traditional Devon cattle are used. This breed is ideally suited to living off rough pasture. They also eat young tree seedlings and bramble which would otherwise lead to the deterioration of the heathland. As heather is less palatable the cattle leave it largely untouched.
If left unmanaged the heathland will eventually become woodland and the heathland plants together with their associated fauna are soon lost. Succession of heathland to woodland
There are a number of Bronze Age barrows on Gittisham Common.
| | |
| --- | --- |
| | left: A Public Bridleway can be accessed from the south of the common at SY16 95 |
This website is hosted by the Offwell Woodland & Wildlife Trust and managed by Quartz Productions