Discover The Countryside !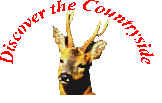 The Fascinating World Around Us -
An Introduction to British Wildlife and Habitats, for 12 -16 year olds.
This course comprises 10 activities for 12 -16 year olds based on the GCSE Biology and Geography curriculum. Activities are sensitive to age group and level of understanding. The activities are designed to stimulate an interest in the natural world and to provide practical understanding of a variety of topics.
Take part in Remote Experiments