The Log Cabin is one of the best known features at the Woodland Education Centre in East Devon, England. Every year, it serves as a busy focus for the environmental education activities of thousands of visiting school children as well as many adult groups. Situated in the Northern Study Area of the Centre, it overlooks one of several valuable ponds which support a wide variety of native wildlife from plants to dragonflies and kingfishers.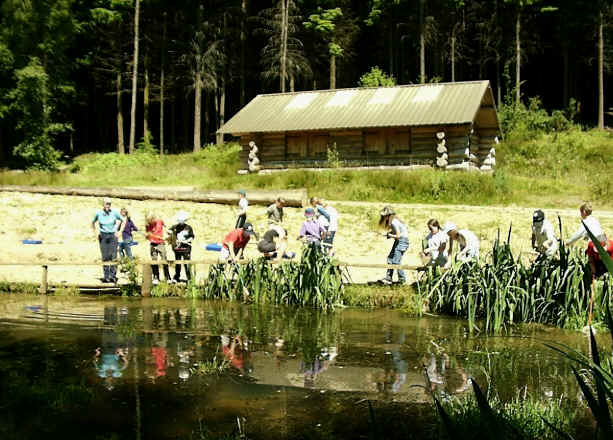 A visiting group of school children learning about freshwater ecology in front of the Log Cabin
The Log Cabin structure is built entirely of coniferous timber grown within a 200m radius of where it stands. Timber is a renewable resource, meaning that for each tree felled to make the Log Cabin, another tree can be planted for use in the future.
The building was funded by a number of sponsors including the Department of the Environment (now Department for the Environment, Transport and the Regions) through their Local Projects Fund. This funding was made available because the project clearly illustrated sustainability using a renewable resource.
The Log Cabin looks like it has come straight out of the forests of North America or Canada. Indeed, it was built using a highly skilled method called the American Full Scribe Technique. The method involves the contours of each layer of logs being carefully scribed and shaped into the layer above, so making a perfect water and air tight fit. It took just over four months to build but should last well over 100 years! You can follow each stage of building the Log Cabin, from clearing the site to laying the chestnut floorboards by clicking on the link near the bottom of the page. All the images are in chronological order.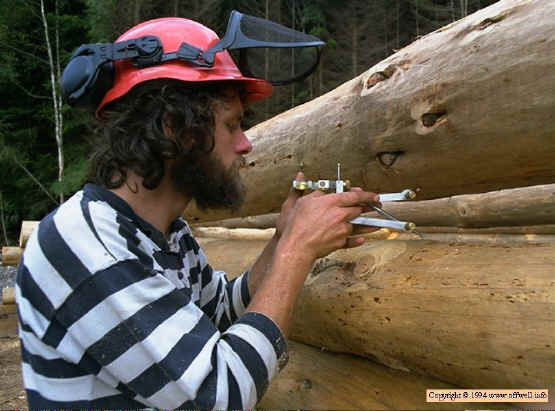 The American Full Scribe Technique involves tracing the contours of one log to another